02-05-2011
The World Federation of Science Journalists has a new board that will be formed of new incoming board members Kathryn O'Hara (Canada), Lucy Calderon (Guatemala), Pallava Bagla (India), and continuing board members Christophe Mvondo (Cameroon), Nadia El-Awady (Egypt), and Natasha Mitchell (Australia)
Michele Catanzaro (Barcelona). Before the elections to renew 3 members of the WFSJ board, the Catalan Association for Science Communication (ACCC) contacted the candidates, to sort out a set of practical proposals they plan to carry on when in charge. In the following, we summarize the projects of the winning members: Kathryn O'Hara (Canada), Lucy Calderón (Guatemala), and Pallava Bagla (India).
According to their answers, in the next few years the WFSJ should promote an award for the best science journalism in the world; organize workshops to educate members in investigative journalism and in new technologies; and increase the interactions between different continents and regions, through working groups and mentoring schemes.
The following text is based on the answers, campaign emails and programmatic documents of the winning candidates. We omit the general principles and focus exclusively on practical proposals, when they are expressed. We hope this article will be an incentive for the new board members to carry on what they have promised.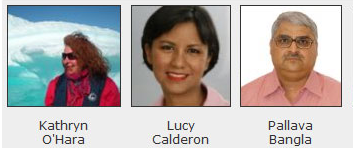 New incoming board members of WFSJ (image: WFSJ)
1. Promotion of investigative science journalism
Give visibility to investigative scientific journalism that is already being done is something all candidates agree about. This can be done through "a showcase of the best science journalism from our… associations" (Kathryn O'Hara); or by rewarding "the best investigative report from each continent every year" (Pallava Bagla). Educating journalists to perform investigations is another important action, that could be done by webinars and workshops given by experts (Lucy Calderón and Kathryn O'Hara). The Canadian member has proposed, as well, "a defense fund for journalists who need protection".
2. Other practical actions to be implemented
Kathryn O'Hara wants to "make journalistic ethics a priority on the federation level through workshops, discussions, role-playing scenarios…". With the same objective, she wants to get feedback on the state of journalistic ethics in WFSJ participating countries and to promote a code of ethics specific to science journalism. Pallava Bagla wants to put in place an "open and active communication between members" and tailor programs "depending on what kind of feedback one gets". He thinks it is important to "stand behind members in times of need".
3. Innovation and new technologies
Webinars to "improve graphics, maps, and other helpful visuals" are in Kathryn O'Hara's program.
4. Linguistic diversity
More WFSJ materials should be translated in languages other than English, according to Kathryn O'Hara. Candidates would be happy to receive advice on this point.
5. Connections between regions
All new board members agree on the necessity to tighten the links between the member associations, through "working groups concentrated on relevant issues" like "climate change, medical research and health risks, etc." (Kathryn O'Hara); "face to face interactions" of "people of different regions" (Pallava Bagla) and connecting "with journalists in countries where associations are not present" (Lucy Calderón).